Cody Hawkins Murder - Press Conference
September 11, 2019
The Greenwood Police Department, Midlands Crimestoppers, Lamar Advertising, and the family of Cody Hawkins have teamed up to work towards finding answers and solving the murder of Cody Hawkins that occurred May 19, 2019 on Pearl St in Greenwood, SC.
Lamar Advertising continues to be a committed supporter of law enforcement and Crime Stoppers programs across the country by donating the billboard space located at Hwy 72 and Hwy 221 in Greenwood, SC. Lamar Advertising partnered with Midlands Crimestoppers to design and produce the billboard that will be displayed starting September 10, 2019 which advertises the $2,000 reward being offered through a private donation and Midlands Crimestoppers. This is an example of the continued collaboration between Midlands Crimestoppers, law enforcement, the community, and our media partners to help solve crimes occurring in our communities.
Freedom Fighters Upstate SC also supports this effort by continuing to be supportive of the family by organizing community events to bring attention to this case and encourage those in the community that have knowledge about the case to have the courage to come forward. Midlands Crimestoppers provides a safe and secure way for the community to provide critical information to law enforcement while remaining anonymous.
The mission of Midlands Crimestoppers is to provide a secure process for the community to give information to law enforcement while remaining anonymous and encourages community involvement by offering monetary rewards for information that leads to an arrest. This mission could not be accomplished without these partnerships and financial donations from the public and private sectors. Donations are used to pay rewards, cover the cost of the secure tip management system, and the additional operating costs of the program. In 2018, Midlands Crimestoppers approved the payout of nearly $24,000 in rewards.
All Crime Stoppers programs in SC provide a secure method for the public to provide information while remaining anonymous. Those who contact Crime Stoppers are called tipsters. Tipster personal information is not collected. There is no caller ID. Phone calls are not recorded. Computer IPs are not saved. Locations are not tracked. A unique computer generated Tip ID and password are provided to each tipster so they can follow-up with their tip while remaining anonymous.
Tipsters can contact Midlands Crimestoppers in one of the following three ways:
MOBILE TIP — Download the P3 Tips app on your Apple or Android Device.
WEB TIP — go to the Midlands Crimestoppers website at www.midlandscrimestoppers.com and click Submit a Tip.
PHONE TIP — call toll free number at 1-888-CRIME-SC (888-274-6372).
Anyone with information on the Cody Hawkins murder is strongly encouraged to contact Midlands Crimestoppers regardless of how insignificant the information may seem.
Donations to Midlands Crimestoppers can be made by going to www.midlandscrimestoppers.com and clicking on Donate. Checks can be made out to Midlands Crimestoppers and mailed to PO Box 8385, Columbia, SC 29202.
Billboard Unveiled Announcing $2K Reward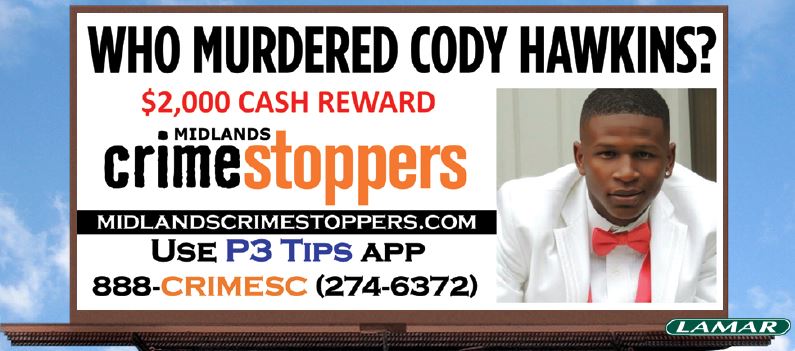 ---
14th Annual Golf Tournament Benefiting Midlands Crime Stoppers
April 29, 2019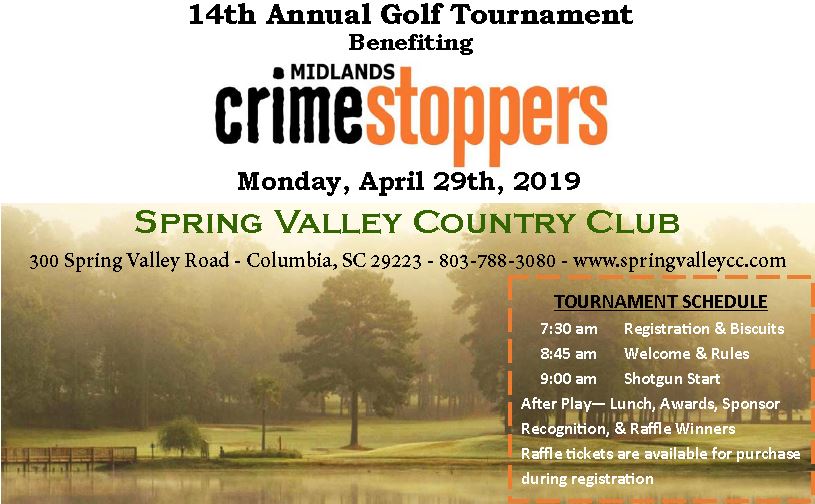 ---
Public Safety Softball Tournament
October 23, 2018
Fundraising event benefiting the Breast Cancer Center at Palmetto Health. Midlands Crime Stoppers board members and volunteers will be on site selling the popular Live PD and Back the Blue t-shirts. Shirts are also available for purchase online by going to
www.scbacktheblue.com
.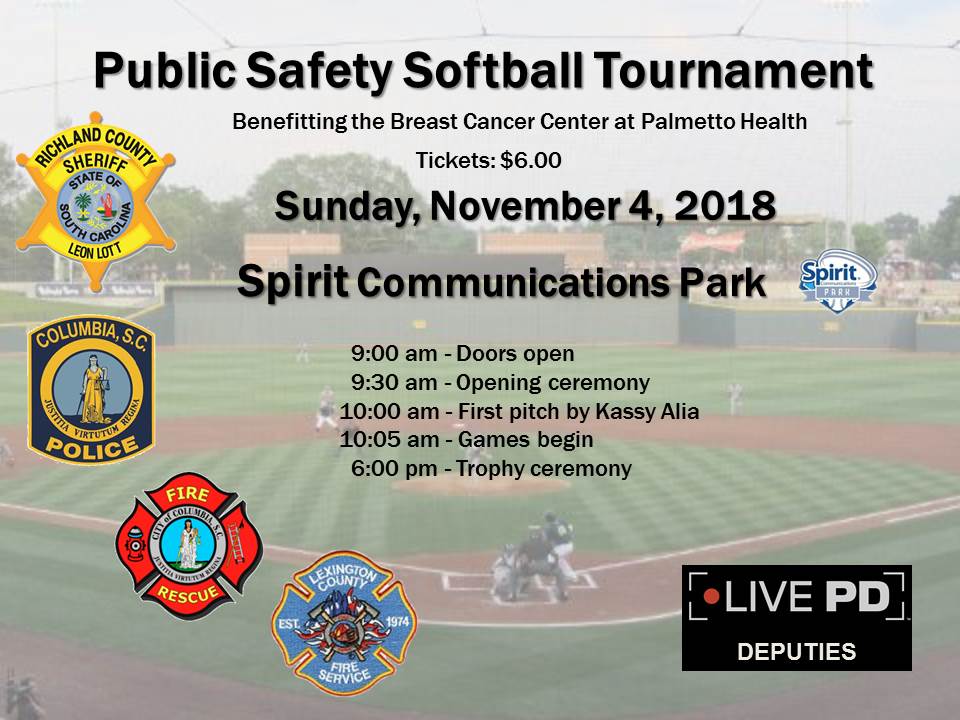 ---
LRADAC, AET & Midlands Crime Stoppers Collaborate in an Effort to Address Underage Drinking
April 13, 2018
Columbia, SC – April and May are a relatively high-risk time for youth and substance use surrounding prom and graduation celebrations. LRADAC hosted a press conference, April 12, to announce a partnership with the 5th and 11thCircuit Alcohol Enforcement Team (AET) and Midlands Crimestoppers in an effort to combat the dangers of underage drinking.
In South Carolina, alcohol is the most commonly used and abused drug by youth. According to the most recent data available from the South Carolina Department of Public Safety, 3,694 drivers under the age 21 were involved in alcohol-related traffic crashes from 2007 to 2014, which averages to about 480 drivers a year.
"We have an opportunity to do something really positive and meaningful. We can no longer ignore what alcohol has and continues to do to our children," said Corporal David Myers, West Columbia Police Department. "Access to alcohol and underage drinking is everyone's problem and its solution is everybody's responsibility. This has to stop and it can with your help."
The campaign is designed to provide the public with a way to anonymously alert law enforcement about the underage purchasing or consumption of alcohol with the purpose of protecting youth from significant risks and consequences of underage drinking. Crimestoppers wants the community to report underage drinking and other alcohol violations by doing the following:
Phone Tip — call toll free number at 1-888-CRIME-SC (888-274-6372)
Web Tip —visit midlandscrimestoppers.com and click the submit a tip tab
Mobile Tip — download the new P3 Tips app on your Apple or Android Device
A media kit can be found at www.lradac.org/prevention. The kit includes images for social media and flyers that can be shared by the community and its leaders to spread awareness about the initiative.
In addition to reporting underage drinking, the partnership encourages parents, families and communities to talk with your youth about the dangers of substance use.
"Talk to your youth frequently about where you stand on this issue. They are much more likely to resist the temptation to drink if they know your expectations for them. While it may not always seem to be the case, parents still do have influence over their teens and we do shape their values and behaviors," said Dr. Pam Imm. "Let's celebrate our youth with love and support not with condoning their use of alcohol or other drugs."
The press conference took place on April 12th, 2018 at 10:30 a.m. at the LRADAC Richland Campus located in Columbia at 2711 Colonial Drive. Speakers included:
Gayle Aycock, President and CEO of LRADAC
Chip Johnson, LRADAC Board Chairman
Judy Powers, Crimestoppers Board Chair
Corporal David Myers, West Columbia Police Department
Pam Imm, Parent Representative
The 5th & 11th Circuit AET is a specialized group of law enforcement officers dedicated to enforcing underage drinking laws. AET incorporates specialized training and strategies to focus on reducing access to and use of alcohol by underage persons. The 5th circuit covers Richland and Kershaw Counties and the 11th circuit includes Lexington, Saluda, Edgefield and McCormick Counties.
Midlands Crimestoppers was developed as an effective crime-solving organization throughout the world, with the primary objective of this tri-partite organization, Community, Media and Law Enforcement, "Working Together to Solve Crime."

---